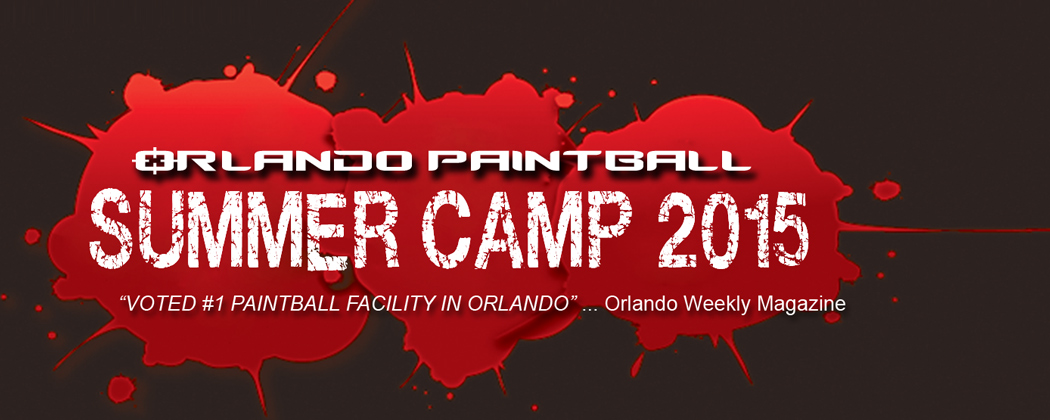 JUNE 8 - 12 | JULY 6 - 10 | AUGUST 3 - 7
INCLUDES:

- Meals and Drinks
- Paintball and Laser Tag
- Use of all 8 Fields
- Half or Full-Day Programs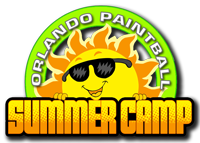 CO ED CAMP FOR KIDS BETWEEN  9 and 16 YEARS OLD
FLEXIBLE PROGRAMS:
Weeks Available:
( Monday, June 8th – Friday, June 12, 2015 )   
( Monday, July 6th – Friday, July 10, 2015 )   
( Monday, August 3rd – Friday, August 7, 2015 )   
CAMP INCLUDES:
1000 PAINTBALLS per DAY ( 500 Paintballs for Half Day )
GUN, MASK, ALL DAY AIR
MEALS and DRINKS
USE OF ALL SIX FIELDS  ( Also some Tactical Laser Tag Games )
PURCHASE Full Day: $300/week : 8am - 5pm
[products ids="760,2115,2116″ skus=""]
PURCHASE Half Day: $200/Week : 8am - 12pm
[products ids="761,2113,2114″ skus=""]
Dear Parents/Guardians,
We are pleased to invite you and your child to our 2015 Summer Camp. We are Florida's largest indoor and outdoor paintball facility. This means that your child plays whether it rains or shines. At Orlando Paintball, we value our kids and believe the effective communication skills, team playing and strong leadership abilities are necessary building blocks for every child's growth and development. That is why we place emphasis and teach these skills to each and every child through fun and exciting activities throughout the day.
Your child will experience action packed days where they not only get to play paintball but they also do:
[column-group] [column]
Warm up and cool off exercises
Care and maintenance their equipment
Strategy and team building exercises
Taking turns as captains of their teams
Tournament style play
[/column][column]
Recreational play
Scenario and objective based games
Target practice
Advanced Laser Tag
Safety and so much more.
[/column] [/column-group]
They will each be provided with one or two fresh meals daily, depending on whether you choose our full day or half day program, their own equipment including safety equipment, unlimited paintballs and coveralls to protect their clothing. All this, while under the care of our responsible camp hosts and excellent management. At the end of summer, your child will have the opportunity to face off against other groups and teams, within our summer camp program, to take home the title of, "Orlando Paintball Summer Camp Champions".
The age group for the camp is 9 – 16 year old boys and girls. The form must be signed by a parent or legal guardian. We have a limited 60 slots available. This will insure that your child has a safe and fun environment to fully experience the sport. There will be 3 sessions. You are welcome to sign them up for more than one session.
If you have any questions, please forward them to:  info@OrlandoPaintball.com
Early submissions will receive a 10% discount if at least two weeks before camp date. Any late submissions must be checked for availability first.
We look forward to getting to know your child and wish you all a safe and happy summer. See you at Camp!